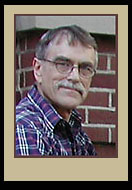 Click on the photo to meet the author
To keep working, click one of the images below.
To Exit or Quit this program click on File, Exit.
Or click on the X button in the top corner.

If you are working from a CD,
don't forget to take your CD with you.
---
Contents
click an image to review more
.

chapter I: clay preparation

chapter II: attach the clay

chapter III: center the clay

chapter IV: open the clay

chapter V: raise the clay



chapter VI: shape the form



all rights reserved - all images and content copyright Marvin Bartel - 2000
Goshen College Ceramics Students may print a copy of any or all pages for their own use. This version of Learning to Throw is a beta release intended for testing.
Please send questioins, comments, and suggestions to: marvinpb@goshen.edu